Description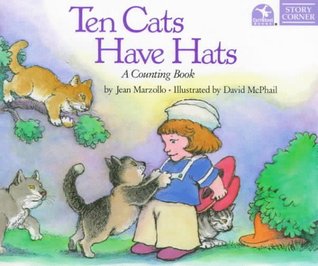 Ten Cats Have Hats: A Counting Book by Jean Marzollo
September 1st 1994 | Hardcover | PDF, EPUB, FB2, DjVu, audiobook, mp3, RTF | 24 pages | ISBN: 9780590206563 | 3.78 Mb
Jean Marzollo is the award-winning author of over 100 books for kids, including the I SPY series, Pierre the Penguin, Help Me Learn Numbers 0-20, Soccer Sam, Happy Birthday Martin Luther King, Close Your Eyes, Mama Mama/Papa Papa, the Shanna Show books, and In 1776, as well as books for parents and teachers. She is the author/illustrator of Ten Little Christmas Presents, Ten Little Eggs, Bible stories, and Greek myths.
On her website Jean Marzollo discusses her books, answers the main question kids ask: Why did you write that book? and also provides free original eBooks she has created. Jean blogs weekly for pre-K and kindergarten teachers. A graduate of the University of Connecticut and Harvard Graduate School of Education, Jean was editor of Scholastics kindergarten magazine Lets Find Out from 1972-1992.
Because she loves kids, early childhood education, and books, she thanks her publishers for supporting her career. She is very grateful for the artists and photographers who have illustrated her books and for her husband Claudio Marzollo and sons Dan Marzollo and Dave Marzollo, who have co-authored some of her books and helped with others, especially the I SPY books.